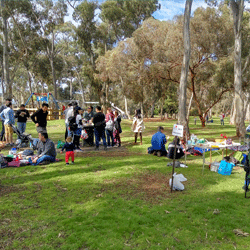 Spring is upon us and we'll be welcoming the season with a Spring Picnic on Sunday 14th October in Hazelwood Park. It's a bring-your-own food and drinks event and we'll be meeting near the playground from 12 noon. Everyone is welcome!
If coming by bus, alight at stop 13 on Greenhill Road and walk about 500m to the picnic spot.
The park has spacious grassed areas, BBQs, playground, duck pond, walking trails and toilets.
Click here to share the Facebook event with your friends or click here for the event flyer.
For a map of the park, please click here.
Contact details of the organisers, Kate and Emiko, can be found on the flyer.
We hope to see you there!
---