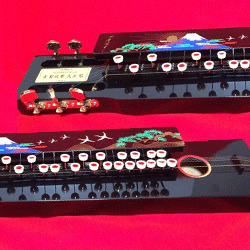 Mr. Hideki Kaneko (a.k.a. KINGEN, the master of Taishokoto) a member of our counterpart organization in Niigata will be visiting Adelaide in March to conduct classes in playing the Taishokoto.

This is a modified form of the Koto, with the idea based on the typewriter. It's a relatively simple instrument to learn to play and is a great introduction to Japanese music.

The classes will be held on the 2nd and 3rd of March in Adelaide.

If you'd like to register for a class, please click here to submit your details.