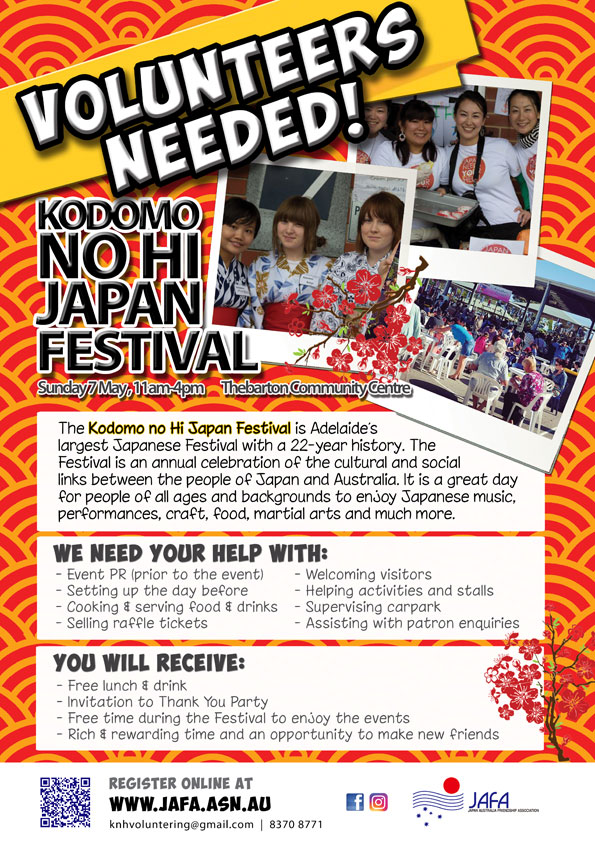 Kodomo no Hi Japan Festival is Adelaide's largest Japanese Festival with a 22-year history. The Festival is an annual celebration of the cultural and social links between Japan and Australia and features an array of activities for every age and background: from the striking ikebana and bonsai displays, navigating your own bullet train and making origami, to martial arts performances, tasty Japanese food and trying on a kimono.
This year the Festival will be held on Sunday 7 May from 11am - 4pm at Thebarton Community Centre - corner South Road and Ashwin Parade. Volunteers are required from 9am - 5pm on the day for briefing, set-up and pack-up; however, if you are only available for part of the day, that's fine too!
The event is made possible through volunteers who assist with all aspects of the Festival: carpark, entry points, JAFA information desk and helping with activities and food stalls. You might find yourself cooking yakiimo or serving anpan; perhaps you'll be dressed in a kimono, roaming the Festival and selling raffle tickets; or you might be assisting in the craft room, folding origami. Whatever the task, we can guarantee a rich and rewarding experience as a volunteer for Adelaide's largest Japanese Festival.
In exchange, you will receive free lunch and drink on the day; an invitation to our Thank You Party for volunteers, which is a great way to catch up with the friends you've made and reflect on the experience; free time to enjoy everything Kodomo no Hi has to offer and of course, a wonderful experience to enhance your resume, assist with your studies or simply to have fun and make new friends.
What are you waiting for? Grab your friends and head to our registration form to sign up!