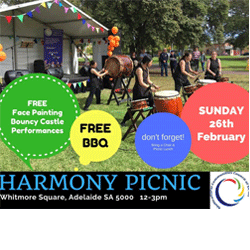 The Multicultural Communities Council of SA is hosting its annual Harmony Picnic in the Square. This will be a Free Family Fun Picnic on Sunday 26th February between 12-3pm at Whitmore Square.
This event will be part of the National Harmony events which take place around Australian and the world. The message of Harmony Day is everyone belongs. It is a day to celebrate Australia's diversity – a day of cultural respect for everyone who calls Australia home.
The picnic will be filled with musicians, activities for all ages and it will be a celebration of South Australia's diversity and social cohesion. The picnic will highlight some of the smaller ethnic communities showcasing their cultural expertise in the areas of dance and music.